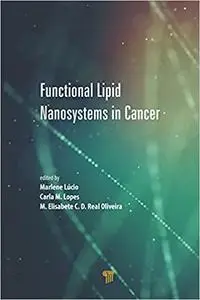 Functional Lipid Nanosystems in Cancer
by Marlene Lúcio
English | 2021 | ISBN:9814877263 | 713 pages | True PDF | 26.66 MB
Cancer remains one of the most challenging issues in modern medicine, being responsible for a high number of deaths every year. Recent important developments in cancer diagnosis and therapy based on the versatility of nanosystems have made it possible to incorporate multifunctional synergistic actions into a single delivery system.
This book compiles the research on the use of functional lipid nanosystems that combine different strategies in one single nanosystem to enhance overall cancer treatment. Besides providing an overview of the current functional nanosystem strategies, it also offers researchers essential theoretical background on cancer, the physiological barriers to its treatment, aspects related to the design and optimization of nanocarriers for cancer treatment, and clinical developments, including promises, safety issues, and the expected future. The editors bring together a group of scientists from all over the world to discuss the most relevant issues and to provide updates on functional lipid nanosystems and cancer.