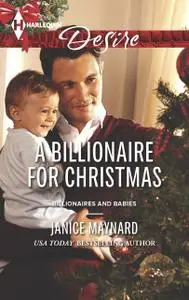 «A Billionaire for Christmas» by Janice Maynard
English | EPUB | 0.3 MB
USA TODAY bestselling author Janice Maynard takes readers to a holiday hideaway in her new Billionaires and Babies book. 
All business, all the time, is billionaire Leo Cavallo's motto. So two months of forced relaxation is certainly not the CEO's idea of a Christmas bonus. Then he meets his neighbor, the irresistible Phoebe Kemper, and a storm forces them to become roommates. Suddenly, the holidays are looking a whole lot brighter. 
But beautiful Phoebe isn't living alone. She's babysitting her infant nephew. Somehow, playing temporary family is surprisingly appealing. But what will Leo choose when it's time to go home?