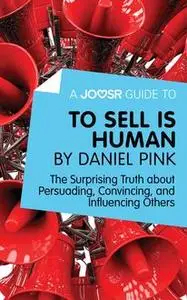 «A Joosr Guide to… To Sell Is Human by Daniel Pink» by Joosr
English | EPUB | 0.2 MB
In today's fast-paced world, it's tough to find the time to read. But with Joosr guides, you can get the key insights from bestselling non-fiction titles in less than 20 minutes. Whether you want to gain knowledge on the go or find the books you'll love, Joosr's brief and accessible eBook summaries fit into your life. Find out more at joosr.com.
Whether we're marketing products, proposing a strategy to our colleagues, or suggesting an idea to our friends and family, we all sell things, all the time. But are we doing it as well as we could be?
Daniel Pink thinks we could be better. And in To Sell Is Human he shows us that we've all got what it takes to become the best. Long gone are the days of the dodgy salesperson with their scripted spiels and pushy manner. Nowadays, it's more effective to take a human approach based on relationships and genuine connections with others. By embracing our inclination to relate to people, we can all learn to influence and move others and radically improve our selling skills.
You will learn:
· Why accepting your failures can help you sell successfully
· How improvising can help you take advantage of unexpected opportunities
· Why honesty and openness may be the most important qualities in modern sales.