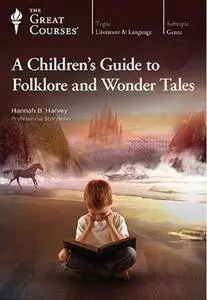 A Children's Guide to Folklore and Wonder Tales
HDRips | M4V/AVC, ~2023 kb/s | 1280x720 | Duration: 12:35:06 | English: AAC, 192 kb/s (2 ch) | + PDF Guide
Size: 11.6 GB | Genre: family
"Once upon a time…" Those four words bring us comfort, joy, and hope, as they start a plethora of stories that often end with "happily ever after." We carry these stories in our hearts like dear old friends, turning to them for inspiration, courage, and entertainment—much in the same way as those who originally told them used them to pass the time and share lessons among family and friends. However, the stories we know now are not always the same ones that were told centuries ago, and were not always told for the same reasons.
Throughout this unique course, Dr. Hannah Blevins Harvey, a professional storyteller with a Ph.D. in Communication Studies, treats you to dynamic, theatrical, and engaging tellings of cherished tales from around the world. Join a mixed-age audience to hear many of your favorite and beloved childhood tales performed by an award-winning storyteller against a storybook-like backdrop as The Great Courses studio is transformed into magical settings. Additionally, you will be introduced to lesser-known stories as you take a cultural tour through ancient and contemporary time, as well as around the world, with stops in Greece, Egypt, Iran, India, Kenya, Japan, Russia, the Nordic countries, the Philippines, Australia, France, Italy, Scotland, Germany and more.
As a special bonus, Dr. Harvey also provides an exploration of the themes, questions, and evolutions for these stories, providing you and the children in your life with an intellectual perspective to think about and discuss.
Dr. Harvey unpacks more than 60 of our most beloved stories, fables, fairy tales, and songs from around the world—providing you with a fascinating, in-depth view into the history, context, and deeper meaning of the tales we know and love. As you travel through the catalogs of Grimm, Aesop, Hans Christian Anderson, Charles Perrault, Oscar Wilde, and so many more, you'll gain profound insights into how and why these stories came to be. And these stories are more than "just stories"—they're a powerful tool of folk culture. Folk stories are the wells into which we humans pour our deepest anxieties, our desires, our hopes—and problematic as they sometimes are, these stories continue to deeply resonate with us throughout our lives.
Why Tales Matter
"It's been said that fairy tales are like the subconscious dreams of a culture—in them wells up all the desires, and anxieties, and experiences of cultural life. In these stories, all of the characters represent us, different aspects of ourselves," claims Dr. Harvey.
Tales use powerful symbols to help us articulate our daily struggles, understand major life events, envision roles for ourselves, and interpret the world around us. As Dr. Harvey tells some of these tales to audiences (children from elementary and middle school and the adults in their lives), you will actually see how shared stories—wonder tales, fables, pourquoi stories, fairy tales, and magic tales—can draw a circle around listeners of all ages. You'll understand how hearing stories in person can pull us closer to shared meanings, and to each other, too. The tales of our youth shaped us, and their lasting power will shape the children you share them with.
Just as important is that stories transport us into another world of fantasy and wonder—where characters do things we can't do here. The words "once upon a time" transport us into "story time"—this is a "play" world, where there are rules, and yet anything can happen. In this "play" world we "work" out a lot of very genuine issues; we discover and try out roles, and discover the ingrained truths that we carry with us throughout our lives. Fantasy matters to us because the deep work of imagining possibilities happens here.
Supplementing the stories and insights provided by Dr. Harvey, child psychiatrist Dr. Zheala Qayyum, from Yale University's Medical School and Department of Psychiatry, weighs in about the importance of stories, folktales, and imagination-building exercise in the healthy development of children, no matter where they live.
Untelling Our Favorite Tales
If you think you know the classic stories such as "Sleeping Beauty," "Cinderella," and "Hansel and Gretel," then think again. This course provides you with illuminating surprises about how culture, language, and time have evolved folktales into the definitive versions you grew up with. "Stories are a lot like humans—we and they have to adapt to our circumstances, or we die," Dr. Harvey explains.
In some cases, stories adapt to the location and cultures where they are being told, while still sharing the same motifs, plots, and lessons. Consider our beloved tale of "The Gingerbread Man": In Norway and Germany the animated edible creature is a pancake—and the pancake runs away down the lane. In Scotland, it's a "wee bannock"—or a roll. In Ireland, it's a little cake. And in Russia, the story is about a loaf of bread that is possessed by a devil.
In other cases, time, translation, and the storyteller will make deliberate shifts in the premise of our well-known stories. Take a deeper look at "Cinderella," one of the world's oldest "magic tales," dating back 7000 years, with Mah Pishani being one of the oldest versions. Dr. Harvey examines the many different versions of just this one story:
The French version of "Cinderella" by Charles Perrault is the one we are most familiar with in America. It is this version that introduces readers to the iconic glass slipper, which was not a component in earlier versions. In many other versions, the shoe is not a shoe at all, but a ring or some other object that the girl must fit into.
In Italy, the glass slipper is made of cork. It's also not a slipper, it's a chianiello—a special kind of courtly overshoe that well-to-do women wore to keep the mud off their nice shoes.
In other versions of the story, the evil sisters cut off their heels and toes to try to fit into the shoe—and they and the stepmother are rewarded for their treachery by being chased and pecked by crows in the end!
Welcome to the best eLearning video (English, German, French, Spanish language) and many more:
LINK
Do not forget to check my blog! Updated regularly! Add in bookmarks my blog :)
PM me if Links not working!