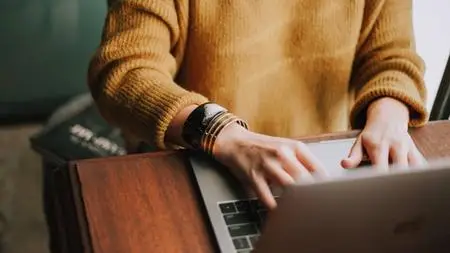 A Complete Guide To Writing a First Class Scientific Essay
MP4 | Video: h264, 1280x720 | Audio: AAC, 44.1 KHz
Language: English | Size: 457 MB | Duration: 1h 39m
An introductory course sharing all the best practices, tools, and simple tricks to write like an academic
What you'll learn
Understand the purpose and structure of literature reviews and research articles
Identify the qualities of effective and well-written literature reviews and research articles
Streamline your content gathering process by reading critically
Have a clearer idea of what to write in each section of literature reviews and research articles
Familiarise with essay writing techniques practised by academics to write clearly and concisely
Create high-quality scientific figures
Master the Harvard referencing style for citation purposes
Build self-confidence as a writer
Requirements
Access to a computer with Internet connection
A basic fluency in English
A willingness to learn
Description
Mastering the art of writing an excellent scientific essay has its unique set of challenges, but it is still an extremely worthwhile investment especially if you are an aspiring scientist hoping to thrive in the world of research/academia.
The unfortunate news, however, is that many university programmes do not formally teach this skill. As a result, many students tend to struggle with the writing process at the start and find themselves undergoing trial and error to figure out which writing style works best.
On that note, this is where I hope my course can help you with.
What's this class all about?
A Complete Guide To Writing a First Class Scientific Essay is designed to guide beginner writers on how to write a high-quality literature review and research article for STEM subjects.
More specifically, I'll be teaching you how to
Formulate an effective working title
Gather information for your essay efficiently
Develop the structure and content for your literature review and research article
Create top-quality figures
Cite your sources using the Harvard referencing style
To facilitate these learning objectives, I'll be including a number of examples from my own essays that have been awarded First Class so that you can get a clearer idea of the best practices in scientific writing.
How do we know this approach is effective?
I used to struggle a lot with essay writing and was frequently scoring a 2.1 (equivalent to a "B" grade) back in my first year of university. Hence, I was exploring different ways to become a better scientific writer.
Over time, I eventually discovered a number of writing techniques and tricks that allowed me to graduate with a First Class Honours in BSc Biochemistry at Imperial College London. On top of that, I also successfully published a first-author research article during the final year of my undergraduate degree (in association with the Larrouy-Maumus lab) by applying these learning points.
Thus, having been in the same position as many new writers who are eager to thrive academically, I would love to share all of my resources to make the beginning of your scientific writing journey easier!
Who this course is for
Incoming undergraduates studying STEM subjects
Returning STEM undergraduates needing a refresher
Prospective STEM undergraduates hoping to prepare for university