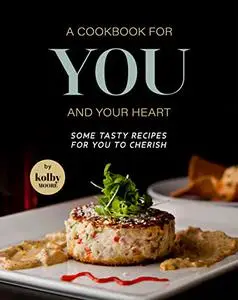 A Cookbook for You and Your Heart: Some Tasty Recipes for You to Cherish by Kolby Moore
English | 2022 | ISBN: N/A | ASIN: B09VZ7KR76 | 95 pages | EPUB | 4.02 Mb
Have you seen YOU on Netflix this month and want to try some recipes inspired by the characters? The recipe book comes with your character's name i.e., Joe, Love, Candace, Ellie, Marienne, Theo, and so on. You don't even need to have hours of spare time to devote to baking. We've gathered the best recipes for you to prepare for your family, friends, loved ones, or coworkers. Everyone will be so busy enjoying your dishes that they won't even have time to ask you how you made them! This recipe book is a complete package that contains breakfast, lunch, dinner, drinks, and desserts that you can enjoy on your own or with family and friends. These dishes will be a lot of fun to make for your culinary friends. You can enjoy delicious recipes in a fraction of the time! This recipe book includes dishes, desserts, and drinks such as pancakes, brownie chocolate cookies, donuts, chicken and waffles, avocado toast, French toast, chili cheese dog, hot dog, American cheeseburger, cumin lime chicken,
Cuban Mojo chicken, cheesecake, Chicago pizza Sazerac cocktail, Tom and Jerry cocktail, Maple and Bacon Cornbread, and many more.
Now that you've seen this dish inspired by the You series, you can easily start cooking at home, so let's get started.
Feel Free to contact me for book requests, informations or feedbacks.
Without You And Your Support We Can't Continue
Thanks For Buying Premium From My Links For Support