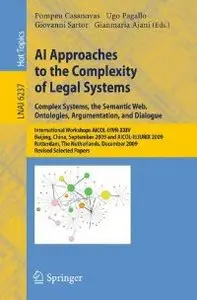 Pompeu Casanovas, "AI Approaches to the Complexity of Legal Systems: International Workshops AICOL-I/IVR-XXIV, Beijing, China, September 19, 2009 and AICOL-II/JURIX … / Lecture Notes in Artificial Intelligence)"
Publisher: Springer | ISBN 10: 3642165230 | 2010 | PDF | 253 pages | 10.2 MB
The inspiring idea of this workshop series, Artificial Intelligence Approaches to the Complexity of Legal Systems (AICOL), is to develop models of legal knowledge, concerning
organization, structure and content, in order to promote mutual understanding and communication between different systems and cultures.
Complexity and complex systems describe recent developments in AI and law, legal theory, argumentation, the Semantic Web, and multi-agent systems. The aim of the AICOL workshops is thus to offer effective support for the exchange of knowledge and methodological approaches between scholars from different scientific fields, by highlighting their similarities and differences. The comparison of multiple formal approaches to the law (such as logical models, cognitive theories, argumentation frameworks, graph theory, game theory), as well as opposite perspectives like internal and the external viewpoints, this volume stresses possible convergences, as, for instance, are possible in the realms of conceptual structures, argumentation schemes, emergent behaviors, learning evolution, adaptation, and simulation.
This volume assembles 15 thoroughly refereed and revised papers, selected from two
workshops organized at the XXIV World Congress of Philosophy of Law and Social Philosophy (IVR, Beijing, China, September 15-20, 2009) and at JURIX-09 (December 16-19, 2009, Rotterdam). The papers are organized in topical sections on language and complex systems in law, ontologies and the representation of legal knowledge, argumentation and logics, as well as dialogue and legal multimedia.