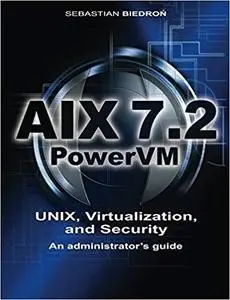 AIX 7.2, PowerVM - UNIX, Virtualization, and Security. An administrator's guide. by Sebastian Biedroń
English | March 4, 2018 | ISBN: 1980457018 | 452 pages | PDF | 9.88 Mb
Get to know the AIX operating system!
Operating systems from the UNIX family are known for their high reliability and performance. This is why many companies use such systems to manage key application servers. One of the systems that belongs to this family is AIX, which has gained popularity in recent years due to its significant potential for virtualization as well as the fact that its security configuration meets the strictest security requirements. From this book, you will learn how the AIX operating system works and how to work with it as an administrator. You will learn the best practices. Further, you will learn about the way PowerVM, one of the most flexible and most reliable virtualization solutions, works. You will also learn numerous ways to ensure the security of both the operating system and the applications operating under its control.
The topics covered include:
Basics of the AIX operating system;
Virtualization, PowerVM, Virtual I/O Server;
Installation and maintenance of the AIX operating system;
Management of users, disks, and the file system;
Backup and system diagnostics;
Network, security, and performance management;
IBM Power platform.
Feel Free to contact me for book requests, informations or feedbacks.
Without You And Your Support We Can't Continue
Thanks For Buying Premium From My Links For Support