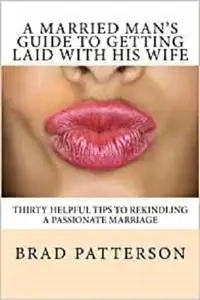 A Married Man's Guide to Getting Laid with His Wife by Brad Patterson
English | October 27, 2013 | ISBN: 1492289531 | 110 pages | EPUB | 0.13 Mb
It's time to put more passion in your marriage and get laid when you want it. It's time to stop being frustrated because your needs are not being met. Chances are if your needs are not being met, her needs are not being met as well, yet hers may be slightly different than yours. It is the understanding of how to meet her needs that will unlock her desires to satisfy yours.
This book reveals the thirty secrets for a man to seduce his wife. It teaches how to become a more passionate and romantic husband. By following the tips of rekindling a passionate marriage, you will be getting laid more often and the connection between the two you will be stronger than ever.
Your wife wants you to take charge of your sex life with her. Let this book help you with ideas on how to get the hot and steamy relationship she has unknowingly always desired.
Feel Free to contact me for book requests, informations or feedbacks.
Without You And Your Support We Can't Continue
Thanks For Buying Premium From My Links For Support