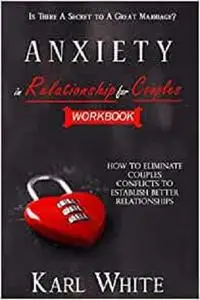 ANXIETY in Relationship for Couples: WORKBOOK - Is There A Secret to A Great Marriage? How to Eliminate Couples Conflicts to Establish Better Relationships by KARL WHITE
English | January 25, 2021 | ISBN: N/A | ASIN: B08TSGP53Z | 133 pages | EPUB | 0.17 Mb
HOW ANXIETY DESTROYS RELATIONSHIPS (AND HOW TO STOP IT)How do I overcome relationship anxiety?Can anxiety ruin a relationship?How a partner can help with anxiety?
<hr>
In this workbook, you and your partner will gain insight into your relationship, learn how to effectively RESOLVE CONFLICTS, and improve your overall RELATIONSHIP SATISFACTION through various THERAPEUTIC TECHNIQUES.
Even when they're completely right, anxiety can steal the magic and loosen the connection between two people who belong together. This book will explore the signs and causes of relationship anxiety, as well as
TREATMENT AND MANAGEMENT OPTIONS FOR COUPLES.
Researchers describe three common symptoms of relationship anxiety:
excessive reassurance-seeking
self-silencing
partner accommodation
The book will discuss each of these in more detail.
Different types of
COUPLES THERAPY
include:
behavioral couples therapy
cognitive behavioral conjoint therapy
cognitive existential couples therapy
psychodynamic psychotherapy
Since relationship anxiety shares similar symptoms with other anxiety disorders, some doctors may suggest working only with the partner with anxiety.
In this workbook you'll learn:
WHAT IS ANXIETY?
ANXIETY DISORDERS
ANXIETY IN THE RELATIONSHIP
DIFFERENCE BETWEEN PANIC AND ANXIETY ATTACK
SOCIAL PHOBIA
POST TRAUMATIC STRESS DISORDER
OBSESSIVE COMPULSIVE DISORDER
INSECURITY IN RELATIONSHIPS
CONTROL AND JEALOUSY
ATTACHMENT THEORIES AND ATTACHMENT TYPES
Effects of attachment on the child's future development
JEALOUSY IN MARRIAGE. WHY IT HAPPENS AND COPING WITH IT
JEALOUSY IN THE COUPLE: WHAT TO DO IF THE PARTNER IS JEALOUS
HOW TO CURE POSSESSIVE AND PSYCHOLOGICAL JEALOUSY
FEAR OF ABANDONMENT AND DYSFUNCTIONAL STRATEGIES: THE CONSEQUENCES
THE PHASES OF LOVE: THE LIFE CYCLE OF THE COUPLE
POSSESSIVENESS IN PAIRS
RELATIONSHIP OBSESSIVE COMPULSIVE DISORDER THERAPY
THE FILOPHOBIA FEAR OF LOVE
HOW TO OVERCOME SEXUAL ANXIETY?
EMPATHY IN THE COUPLE
BUILDING TRUST IN THE COUPLE
PRACTICAL TIPS FOR COMBATING ANXIETY
And much more!
Feel Free to contact me for book requests, informations or feedbacks.
Without You And Your Support We Can't Continue
Thanks For Buying Premium From My Links For Support