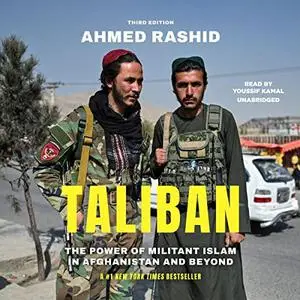 Taliban, Third Edition: The Power of Militant Islam in Afghanistan and Beyond by Ahmed Rashid
Narrator: Youssif Kamal
March 8, 2022 | English | ASIN: B09GSZ8M18 | M4B & MP3 @126 kbps | 14 hrs 25 mins | Unabridged | Retail
PDF companion included
Ahmed Rashid, called "Pakistan's best and bravest reporter" by Christopher Hitchens, brings the shadowy world of the Taliban and its impact on Afghanistan and the Middle East and Central Asia into sharp focus in this modern classic. Rashid offers an authoritative account of the Taliban's rise to power, its role in oil and gas company decisions, and the effects of changing American attitudes toward the Taliban. He also describes the new face of Islamic fundamentalism and explains why Afghanistan has become the world center for international terrorism.
In this updated edition, Rashid examines how the Taliban regained its strength; how and why the Taliban spread across Central Asia; how the Taliban helped Al'Qaida's spread into Europe, North Africa, the Middle East, and the Far East; and more.
The encoded bitrate is the same as the source file.
Use the included CUE file to split into chapters, if desired.