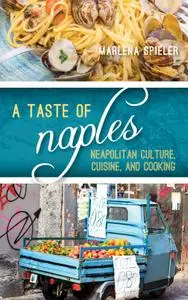 A Taste of Naples: Neapolitan Culture, Cuisine, and Cooking (Big City Food Biographies) by Marlena Spieler
English | November 8th, 2018 | ISBN: 1442251255 | 312 Pages | EPUB | 1.98 MB
In other places, it might seem trite or cliché to say that love is an essential component of cooking, food, and dining. But in the shadow of a still-fuming Vesuvio, the love of everyday life is palpable in Naples: that passion for life is the spirit that guides Neapolitan cuisine. You can taste it in everything.
To truly know Napoli and Neapolitan food, you must not stay within its city limits. The entire region may be called Campania, but it is also: Napoli. The entire region shares similar characteristics, especially in its cuisine, and its surrounding areas also grow so much of what feeds the city, bringing pleasure and sustenance to the table and to life.
In this tantalizing tour of the culture and cuisine of Napoli, Marlena Spieler reveals the tastes, sights, and sounds of the city and surrounding area (including its islands) in gorgeous detail. Using her own experiences and conversations with others, both tourists and residents alike, she offers us the rich history of this unique culture and cuisine, telling the story through recipes, history, and traditions, especially the special dishes and celebrations that follow every Neapolitan throughout the year. Open its pages and step into a sensory tour of this unique city.