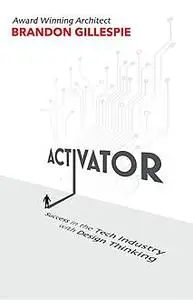 «Activator» by Brandon Gillespie
English | EPUB | 0.1 MB
Fear has quietly and insidiously woven its way throughout the very fabric of how we do business in Technology. Our goals are driven by failure, rather than success.
Design Thinking is a powerful adjustment in how you approach change, helping you to address this fear by becoming an 
Activator
of change. You can be more effective in your Technology career, whether you are CTO, CIO, Architect, Project Manager, Engineer, Developer, or you hold any other role.
Learn about:
How fear effects the human side of technical people
The Principles of Design Thinking
How to use Design Thinking in technical leadership and planning
How to use Design Thinking to be more successful and effectively make change
Identifying and ending toxic behavior
«Activator is a must read for anyone strategically planning with any level of complexity.  Simply written and powerfully driven home.  Brandon takes us down an interesting and thoughtful road that leads to great results.»
— Alan Rencher, CIO
«A thoughtful explanation for building tech software or infrastructure, with valuable strategies for the people factor.»
-Seth Law, CSO, nVisium
Brandon has a breadth of experience, through his career including CTO, CIO, Director of Operations, Architect, Engineer and Developer across the public, private, and nonprofit sectors. These experiences have given him a unique insight into the behaviors we so often exhibit.