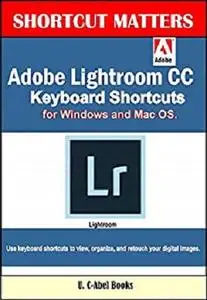 Adobe Lightroom CC Keyboard Shortcuts for Windows and Mac OS (Shortcut Matters Book 37) by U. C-Abel Books
English | February 14, 2017 | ISBN: 1543227341 | 58 pages | PDF | 0.71 MB
Are you desiring to be a professional in Lightroom? Do you want to just find a way you could use to liven up, add colours, and retouch your digital images? Or do you generally find it difficult to manage your photos in Lightroom? Don't worry, this book has come to be of help. Maybe it is the way it is because you have not tried the use of keyboard shortcuts as an option.
U. C-Abel Books wants to tell you some keyboard shortcuts that will work for you.
The following topics are waiting:
Fundamental Knowledge of Keyboard Shortcuts:
Definition of Computer Keyboard, Ways To Improve In Your Typing Skill, Mouse, Definition Of Keyboard Shortcuts, Why You Should Use Shortcuts, Ways To Become A Lover Of Shortcuts, How To Learn New Shortcut Keys, Your Reward For Knowing Shortcut Keys, Why We Emphasize On The Use of Shortcuts.
15 (Fifteen) Special Keyboard Shortcuts
Keyboard Shortcuts for Use in Adobe Lightroom:
Keys for Working with Panels, Keys for Navigating Modules, Keys for Changing Views and Screen Modes., Keys for Using a Secondary Window, Keys for Managing Photos and Catalogs, Keys for Comparing Photos in the Library Module, Keys for Rating and Filtering Photos, Keys for Working with Collections, Keys for Working with Metadata and Keywords in the Library Module, Keys for Working in the Develop Module, Keys for Working in the Slideshow Module, Keys for Working in the Print Module, Keys for working in the Web Module, Keys for Using Help.
Your success will not be debated when you learn them well and use them well.