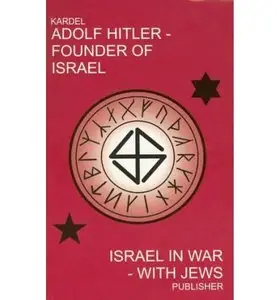 Adolf Hitler - Founder of Israel: Israel in War With Jews
Modjeskis Society | 1996-06 | ISBN: 0965752305 | 156 pages | PDF | 2 MB
Kardel's book presents events leading to and the people responsible for the World War II, the Holocaust, the creation of the State of Israel and other historical events. It also shows in great detail the reasons and explains how and why it was possible for those events to happen. This book is a highly recommended reading for all the History Buffs, the Jews and non-Jews alike.
Summary: Warning!
Rating: 1
Anyone has the right to write down his personal opinion, but it needs more than that to rewrite history.
I really doubt anyone jewish or not can follow this weird mind works. Easier it is to explain his motives:
Mr. Kardel is infamous in Germany for his strong antisemitism. He follows here the school of Otto Strasser (brother of Gregor Strasser), one of the early National Socialists - with an emphasis on Socialist. They try to wash clean the German "Wehrmacht" from anything. They put up incorrect and from all serious historians wrong proven statements of Jewish roots of Hitler, Heydrich, Eichmann etc. to blame anything they cannot talk away onto the Jews themselves. No page in this book that isn't full of false statements and antisemitic polemic.
There has been done alot of good research from the German government against antiracist tendencies. Kardel can't give proves for his statements in fact makes up his own stories about Hitlers mother telling her son about his Jewish grandfather Frankenberger, who never existed in Graz. Anyone who has further interest, I can give give some reference material that is proving all his statements wrong.