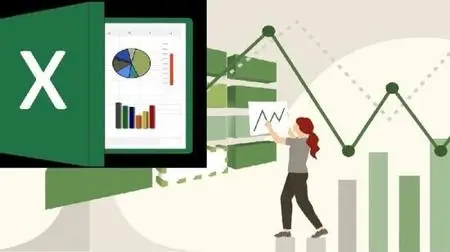 A Beginners approach to Advanced Excel
MP4 | Video: h264, 1280x720 | Audio: AAC, 44.1 KHz, 2 Ch
Genre: eLearning | Language: English + srt | Duration: 136 lectures (9h 35m) | Size: 5.16 GB
Learn A to Z of Excel with hands on demos & practice sessions explaining everything from Scratch to Advance
What you'll learn:
Learn A to Z of Excel with hands on demos & practice sessions explaining everything from Scratch to Advance
All essential formulas and functions in excel and their application.
Data Visualization , Basic and advanced charts and graphs and Dynamic Graphs
Conditional formatting, Whatif - Goal Seek and Scenario Manager
Solver for resource management and transportation problems
Requirements
The course is created from scratch so no prior knowledge of Excel or similar software is required.
All theoretical and practical knowledge required to complete this course is covered in the course itself.
The learners must have a copy of Ms Excel 2013-19 or Office 365 (Some features may not be available in earlier versions) to practice the training imparted in this course.
Description
A study by well known analyst group revealed that Excel skills are required for the vast majority (82%) of middle-skill positions. Proficiency in using productivity software also provides a pathway to high paying jobs for workers without a college degree. Certified Excel skills have been found to increase the likelihood of promotions and lift earnings by 14%. Are you ready to land your next job and increase your pay by around 14%?
This course is designed to train the basic, intermediary and advanced theoretical and practical application of Excel. If you need to update and upgrade your productivity (Excel) skills, then as a beginner or an intermediate user, this course is perfect for you, This course provides training videos along with examples of built-In Functions and formulas and also shows you how to combine these functions with each other, and with different type of operators (like +, -, *, /, etc.), to create Excel Formulas. Along with this, Course also covers practical industry applications of these functions and formulas.
By the time you complete this course, you will be able master the most popular Excel tools and would be able to use these tools and techniques in your daily work and business life. Below given are the few glimpses that you will master after successfully learning and completing this course. You will be able to:-
Create basic and advanced problem solving spreadsheets.
Handle, Manage and Modify large data sets.
Master the use of some of Excel's most popular and highly sought after functions (LOOKUP formulas and functions)
Create dynamic report with using PivotTables and Slicers
Use statistical tools, techniques and formulas.
Use financial functions and formulas.
Work on Data Table, Goal seek and scenario functions and their use in Business activities
Work on transportation and resource management problems using advanced tools like SOLVER
Work on Excel Array Formulas, which is an essential learning for some of the more complex (but most useful) Excel functions and formulas.
For beginners, this course provide a strong understanding of the basic Excel features, which will help you to get the best use of Excel functions and formulas. There is also a section on Excel Errors which will help you to diagnose and fix any errors that you encounter.
For intermediate user and for those who want to become avid advanced user, With the help of our step-by-step lectures, Excel will become a natural part of your spreadsheet development, enabling you to perform complex analysis and automate repetitive tasks.
Who this course is for
This is complete course for all Management Student.
This course is perfect for newbies or beginner who needs to learn much more than just the basics.
This course is very good for intermediate Excel users who needs to update and upgrade their skills pivot table, visualization and advanced charts and graphs.
Professionals looking for a career in data analysis in corporate sector
PhD students and researchers looking for statistical application
Educators and teachers looking forward for teaching excel skills to their students
Administrative assistants, office clerks, information staff Business, management, market analysts looking to upgrade their productivity (Excel) skills
Project managers, Sales, Marketing or training managers who are looking smart formulas, tricks and tips to manage their daily work routine