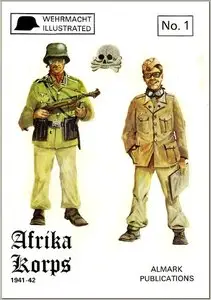 Afrika Korps: German military operations in the Western Desert, 1941-42 By Peter Chamberlain & Chris Ellis
Publisher: Almark Publishing Co. Ltd 1971 | 32 Pages | ISBN: 0855240180 | PDF | 19 MB
The war in the Western Desert actually started in June 1940 when Italy declared war on Britain. Libya was an Italian colony bordering Egypt which was guarded by a small British force. British troops took the initiative in the first few months of the war. The 10th Italian Army moved ponderously 60 miles into Egypt in mid-September 1940 under the command of Marshal Graziani. British strength in Egypt was expanded meanwhile from the original 7th Armoured Division by the addition of three Common­wealth divisions, forming the Western Desert Force. On December 9. 1940, the British started a well-planned and brilliantly conducted offensive against the numerically superior Italian Army and this resulted in a sweeping conquest of Cyrenaica, including the taking of the important towns of Bardia, Tobruk, and Benghazi. The Italian Army was virtually eliminated by the first week in February with the capture of 130.000 men and a big haul of equipment.
NO PASSWORD


!!!No Mirrors below, please! Follow Rules!