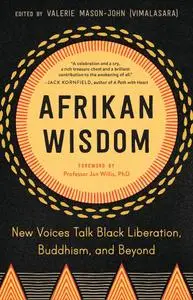 Afrikan Wisdom: New Voices Talk Black Liberation, Buddhism, and Beyond by Valerie Mason-John
English | July 20th, 2021 | ISBN: 1623175623 | 384 pages | True EPUB | 1.28 MB
A spiritual, political, and interdisciplinary anthology of wisdom stories from Black liberation leaders and teachers.
Afrikan Wisdom represents an intersectional, cross-pollinated exploration of Black life—past, present, and future. Award-winning author and editor Valerie Mason-John (Vimalasara)'s collection of 34 essays—written by an eclectic and inspirational group of Black thought leaders and teachers—reflects on the unique and multilayered experience of being Black in the world today.
This anthology instills in readers the knowledge, awareness, validation, and spiritual tools necessary to nurture both individual and collective liberation. It is both an inspiration and a motivation for Black readers, as well as anyone else interested in reading about emerging spiritual voices.
Topics include:
• African and Afro-Diasporan cultures, histories, spiritualities, art, music, and literature
• Black radical traditions of liberation and consciousness
• Anticolonialism and antislavery
• Buddhist philosophy
• Social and environmental justice
• The prison industrial complex and mass incarceration
• (Kemetic) yoga, healing, and mindfulness
• Intersections with Indigenous cultures
• Addiction and recovery
• Transgenerational trauma
Enjoy
My Blog.
No any convert or low quality!