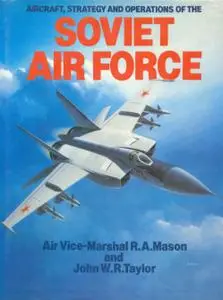 R. A. Mason - Aircraft, Strategy and Operations of the Soviet Air Force
Chatham Publishing | 1986 | ISBN: 0710603738 | English | 280 Pages | PDF | 153.63 MB
A senior RAF officer and the editor of Jane's All the World's Aircraft have worked together to produce this unique assessment of the organisation that is tasked with, among other things, defence of the world's largest volume of national airspace and the spearheading of any future offensive in Western Europe. Air Vice-Marshal R. A. Mason has drawn widely on Soviet military literature and Western defence sources to assemble a clear picture of the Soviet Air Force's current doctrine and methods,
and to explain how they interact with the design and capabilities of its aircraft. John W. R. Taylor complements his analysis with technical coverage of the 40 or so types currently operated by the Air Force's air-defence, tactical, maritime, strategic and transport units. Based on the Soviet entries in All the World's Aircraft, this section benefits from John Taylor's close links with the great Russian aircraft designers and contains the latest and most reliable information.