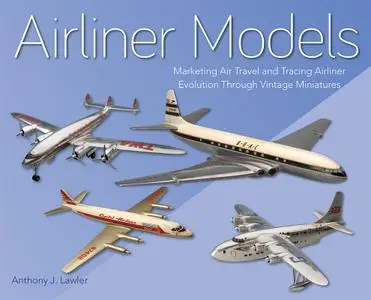 Airliner Models: Marketing Air Travel and Tracing Airliner Evolution Through Vintage Miniatures by Anthony J Lawler
English | October 8th, 2019 | ISBN: 1785006339 | 336 pages | EPUB | 366.01 MB
For most of the past century, beautiful models of airliners have been made to promote their airlines' services in travel agents and their own shops. The models also illustrate the evolution of airliner design over these decades: the wood and fabric biplanes of the 1920s, the broad adoption of all-metal airliners in the 1930s, the first jet airliners of the 1950s, the first wide-body airliners of the 1970s and the pioneering small steps in supersonic air travel are all covered.
The increasingly colourful exterior schemes adopted by the airlines, to ensure recognition by aspiring passengers, provide an interesting subtext. For model collectors, the airliner type, makers name, scale, approximate age and the materials used are detailed for each model illustrated. A short history of significant model-making companies is covered. With the onset of online bookings and the closure of airline offices and travel agents, the use of models is fast vanishing forever. The focus of this book is to preserve this fascinating era when models were a significant marketing tool, and to ensure that these models, at least in photographic form, survive as a record for future generations.
Enjoy
My Blog
. No any convert or low quality!