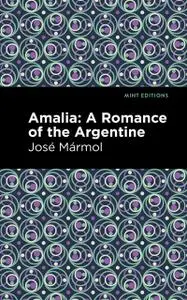 «Amalia» by José Mármol
English | EPUB | 0.8 MB
Amalia: A Romance of the Argentine (1851) is a novel by José Mármol. Originally serialized while Mármol lived in exile in Montevideo, the novel became a symbol of Argentine national identity following the defeat of brutal dictator Juan Manuel de Rosas in 1852. Mármol, a leading critic of the Rosist regime, used autobiographical details to compose this masterful story of romance and political resistance, elevating the personal to the level of the national without losing sight of the everyday struggle of dissidents. Adapted twice into film, Amalia remains a timeless work of Latin American fiction from a leading figure of the Romantic era. Set during the violent regime of caudillo Juan Manuel de Rosas, Amalia follows two lovers brought together by political repression. Forced to go into hiding during a government crackdown on dissidents, Eduardo finds safety at the home of Amalia, a beautiful young woman. Protected by Amalia and her cousin Daniel, Eduardo grows weary of living in constant fear of the Rosist death squads stalking the streets of Buenos Aires, and longs for a day when liberty and justice will set him free. Despite their blossoming romance, Eduardo and Amalia know they face mortal danger, that every decision they make will come with the risk of discovery. Regardless, they persevere. With a beautifully designed cover and professionally typeset manuscript, this edition of José Mármol's Amalia: A Romance of the Argentine is a classic of Argentine literature reimagined for modern readers.