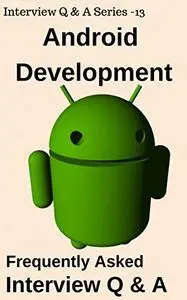 Android Development- Frequently Asked Interview Q & A: Mobile Development -Android by Bandana Ojha
English | 2018 | ISBN: N/A | ASIN: B07J21FS2P | EPUB | 0.47 Mb
Android is a trend that has driven the overall advancement of touch-screen smart phones. More and more smart phones in the market today are using Android systems that will undoubtedly benefit millions of mobile users. Compared to the limited iPhone and iPad lineup, Android represents choice on a grand scale. As Android provides an interesting revenue model, a lot of organizations have a dedicated team for application development with hiring catching pace. This book contains most frequently asked android development interview questions and answers. It will help the reader to get a good understanding of methodology, concept, approaches and design patterns of Android application .This book is aimed at anyone who is interested to take a job in android development ranging from junior to expert level. The authors of this book conducted so many interviews at various companies and meticulously collected the most effective questions with simple, straightforward explanations. Rather than going through comprehensive, textbook-sized reference guides, this book includes only the information required for android development to start their career as an android developer. Answers of all the questions are short and to the point. We assure that you will get here the 90% frequently asked interview questions and answers.