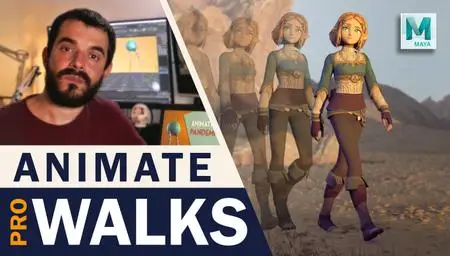 Animate a Professional Looking Walk in Maya. Includes polishing!
Duration: 2h 57m | .MP4 1920x1080, 30 fps(r) | AAC, 48000 Hz, 2ch | 2.19 GB
Genre: eLearning | Language: English
Learn efficient 3D animation workflows by delivering a professional looking, polished female walk in Autodesk Maya.
This course is designed for beginner animators who understand the basics of the workflow but struggle to give their animation that level of quality and believability typical of professional products.
Walks are the foundation for advanced animation. Mastering walk cycles in 3D animation gives you the confidence and skills to control your human characters in more articulated acted scenes.
At the end of this course you will be able to confidently animate walk cycles, interpret reference footage for animation, and adopt the same techniques professionals employ to produce industry standard animations.
You will learn about:
Working with video references
Identifying and designing the key poses of a walk
Troubleshooting posing
Mirroring poses both manually and employing easy to use custom tools
Understanding weight shifts in locomotion
Controlling the stride
Fixing sliding feet
Setting up priorities for splining
Animation splining and polishing workflows
Working with animation layers to add details and variations
Fixing knee pops and intersections
Making the character move through space
The course will employ industry standard software Autodesk Maya, but the same workflows can be applied to any 3D package.
More Info