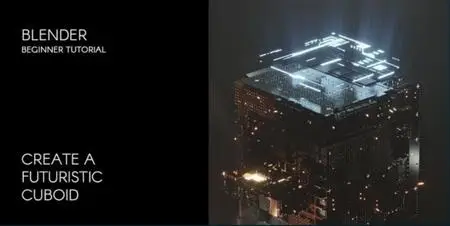 Animate a 3D futuristic cuboid in Blender
1h 39 | mkv , 1280x720 , 30 fps | aac, 48000 Hz, stereo, s16 | 1.45 GB
Genre: eLearning | Language: English
In this class, I will show you how to create and animate a futuristic cuboid using displacement and some lighting and animation tricks in Blender.
We will use a simple cube to start with and use textures we generate from JSPlacement to displace, shade and light the model.
The course is packed with tips and tricks resulting in beautiful and quick results and goes over everything from generating the textures, modelling the cube, shading and lighting the scene to composite and render the animation.
I will guide you through the whole process of creating the scene as follows:
Explaining displacement maps and generating the patterns in JSPlacement.
Creating the cuboid using the displacement modifier and the generated maps
Adding textures and colours to the model using the shader network.
Lighting the scene and adding some effects.
Animating the scene using expressions and making it loop.
Setting up the render parameters.
Fixing the overall colours and mood in the compositing workspace.
Exporting the animation to a video file.
Moreinfo