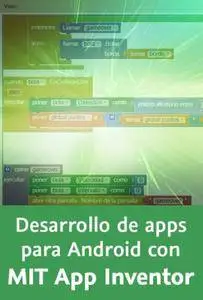 Apps para Android con MIT App Inventor
HDRips | FLV/AVC, ~339 kb/s | 1280x720 | Duration: 03:42:00 | Spanish: AAC, 128 kb/s (2 ch) | 568 MB
Genre: Development / Programming
Crea tus primeras apps para Android de forma fácil y divertida
¿Quieres hacer tus propias apps para Android? Con App Inventor, y de forma muy sencilla vas a poder hacerlo y este curso te enseñará cómo. App Inventor, diseñado por el MIT, está pensado para dar a todo el mundo la posibilidad de crear sus propias apps, con muchas y potentes funciones, un entorno fácil e intuitivo y un sistema de programación basado en bloques que evita el proceso de aprender a programar. Y además sin la complicación de tener que instalar complejos entornos de programación. App Inventor es una gran herramienta para divertirse creando apps y también para educadores que quieran acercar a niños y jóvenes a la tarea de programar.
Primeros pasos en la programacion con Python
Python intermedio
CSS con LESS y Sass
Desarrollo de tienda online con PHP
Desarrollo web con Django
Diseno de microsites
Entintado digital de comic
Flash CC 3: HTML5, animacion y multimedia
Flash CC novedades 2014
Formularios con Acrobat XI
HTML5. Animacion e interactividad con canvas
Instalacion y administracion de servidor Linux
Introduccion a Excel 2013
Introduccion a Firefox OS
Mi primer juego en HTML5
Mi primera web con WordPress
Microsoft Excel 2013 avanzado
Microsoft Excel 2013 basico
Microsoft PowerPoint 2013
Montaje con Adobe Photoshop Avion sumergido
Montaje con Adobe Photoshop: Perestroika
MySQL - Gestion de bases de datos
Node.js - Javascript en el lado del servidor
Publicaciones digitales: InDesign y HTML5 con in5
Publicaciones digitales: Introduccion a Mag+
Publicaciones digitales: Modelos de negocio
Mi primera app para Android
Python avanzado
Primeros pasos con Java
Fundamentos de la programacion: Codigo eficiente
Welcome to the best eLearning video (English, German, French, Spanish language) and many more:
LINK
Do not forget to check my blog! Updated regularly! Add in bookmarks my blog :)
PM me if Links not working!
No mirrors pls!