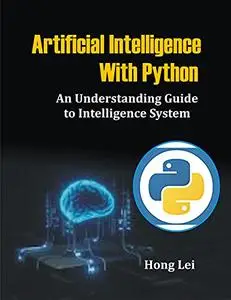 Artificial Intelligence With Python: An Understanding Guide to Intelligence System by Hong Lei
English | 2021 | ISBN: N/A | ASIN: B094QNT1DR | 207 pages | PDF | 2.90 Mb
Artificial intelligence is the intelligence demonstrated by machines, in contrast to the intelligence displayed by humans.
This book covers the basic concepts of various fields of artificial intelligence like Artificial Neural Networks, Natural Language Processing, Machine Learning, Deep Learning, Genetic algorithms etc., and its implementation in Python.
This book will be useful for graduates, post graduates, and research students who either have an interest in this subject or have this subject as a part of their curriculum. The reader can be a beginner or an advanced learner.
Feel Free to contact me for book requests, informations or feedbacks.
Without You And Your Support We Can't Continue
Thanks For Buying Premium From My Links For Support