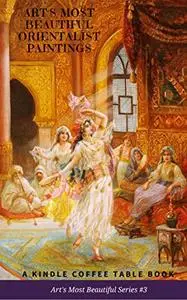 Art's Most Beautiful Orientalist Paintings by Douglas DeLong
English | 2018 | ISBN: N/A | ASIN: B07BFFJZ13 | 227 pages | EPUB | 21 Mb
Transport yourself to a world of exotic lands, beautiful women and colorful costumes!
In the art world, the word "Orientalism" refers to the works of Western artists who, during the 19th century, specialized in Oriental subject matter and who produced paintings after traveling to countries primarily in the Middle East and North Africa, such as Egypt and Algeria. Upon returning home and creating scenes from their travels, they were able to provide their audiences with intimate portraits of life in these far away, exotic lands. Their paintings, with their lush and vibrant colors, enthralled westerners who had likely never had a chance to see these kinds of images before. Their paintings were full of harem girls, hookah pipes, bathhouses, bazaars, colorful carpets, camels, desert scenes, battle scenes, mosques, and exotic costumes. Of course, their paintings represented life in these countries as seen through the eyes of Westerners, so these artists may have occasionally been guilty of overly romanticizing the culture or even catering to Western fantasies about life in these exotic lands.
In this collection, we present nearly 200 digitally-enhanced, high-resolution works of art from 44 of the world's greatest Orientalist painters from the late 19th and early 20th centuries. Eleven of the artists are featured with their own galleries, while the remaining 33 are featured in the book's final "Eclectic Gallery," a collection of works from various Orientalist painters.
In the Featured Artists section, you will find a short biography of each artist with links provided to more in-depth information. Each artist's gallery is preceded by a guide which will identify each painting by title and year (when available). Portraits of each artist are also included.
Feel Free to contact me for book requests, informations or feedbacks.
Without You And Your Support We Can't Continue
Thanks For Buying Premium From My Links For Support