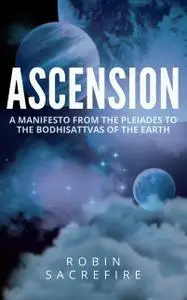 «Ascension: A Manifesto from the Pleiades to the Bodhisattvas of the Earth» by Robin Sacredfire
English | EPUB | 0.2 MB
This book was written as a message to the 144,000 chosen beings of the Earth and the ones that intend to help them in their path. Commonly known as Indigo, Star Seeds, Crystal Beings, Rainbow Beings, or more simply as Bodhisattvas, they are on planet Earth to uplift it and help humans in the transition to the next stage of spiritual development. And so, in regards to this topic, the content presented details how such development must occur, how one can take the necessary insights to strengthen himself in this path and how the planet must change in the following decades to come. Written as a manifesto, this book approaches several important topics, regarding how to deal with human beings and educate them, how to attract more happiness and abundance, and also how to develop more wisdom and acquire knowledge about universal truths.