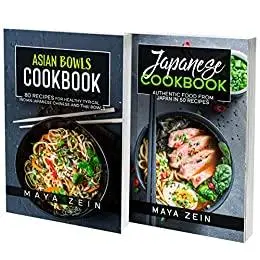 Asian Bowls And Japanese Recipes: 2 Books In 1: A Cookbook With 150 Easy And Delicious Dishes From Asia And Japan by Maya Zein
English | 2021 | ISBN: N/A | ASIN: B09JZY7M4B | 215 pages | EPUB | 0.27 Mb
Are you looking for an Asian Cookbook with 150 traditional recipes?
In this 2 books in 1 by Maya Zein, you will find 150 recipes for easy to make and tasty Asian food!
In the first book,
Asian Bowls Cookbook by Maya Zein
, you will discover 80 healthy and easy to make Asian Bowls from Asian cuisine.
Bowls are extremely famous nowadays for two main reasons: healthy diet and practical all in one meals. In a bowl you have carbs, proteins and fats in a single dish, big enough to satisfy your hunger and easy enough to be eaten on the go or on the couch. Asian food is perfect when it comes to prepare a bowl, not only due to the large usage of rice as staple food in many dishes but also because it is a style fitting the asian cuisine perfectly.
In this cookbook you will find several recipes from the major asian cuisines and you will be able to spot the differences in texture and flavors when it comes to taste a Thai bowl or a Korean bowl. Spices, herbs, vegetables and a large variety of ingredients will complete the bowls in an unforgettable way.
In Asian Bowls Cookbook by Maya Zein you will learn:
How to prepare typical and authentic healthy Asian Bowls at home
80 recipes for Thai Chinese Indian and Japanese Bowls
80 recipes for a balanced but full of flavors diet
If you are looking for an healthy and delicious cookbook for Asian Bowls this book will let you explore the depth of the Asian cuisine!
In the second book,
Japanese Cookbook by Maya Zein
, you will discover the 50 most famous and easy to make recipes from Japanese cuisine, with a bit of history, interesting facts and more.
Japanese cuisine is so deep in flavors and uses so many rich ingredients that picking the best recipes is extremely difficult. From north to south, every area has its typical food, ingredients and way to prepare delicious dishes, from sushi to onigiri, from takoyaki to yakitori.
Japanese cuisine takes in great consideration the key ingredients avoiding to process them extensively and relying on fish and vegetables, properly cooked or marinated with typical sauces such as teriyaki and soy sauce.
From bento, the traditional box of different dishes and flavors to ramen, the traditional noodles soup that can be served in many different ways, the Japanese food arrived everywhere in the world, but there are many traditional recipes that did not get famous yet but are easy to be prepared at home with local ingredients and deliver all the Japanese taste you can dream about.
In Japanese Cookbook by Maya Zein you will learn:
How to prepare traditional Japanese food at home
50 recipes for the all time classic Japanese dishes
50 recipes with a bit of history and interesting facts for getting to know better the Japanese cuisine
If you like Asian flavors and are interested in exploring traditional dishes from Japan, this cookbook is for you!
Feel Free to contact me for book requests, informations or feedbacks.
Without You And Your Support We Can't Continue
Thanks For Buying Premium From My Links For Support