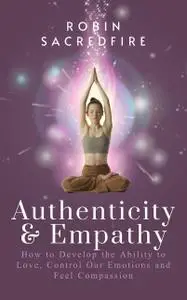 «Authenticity & Empathy: How to Develop the Ability to Love, Control Our Emotions and Feel Compassion» by Robin Sacredfire
English | EPUB | 0.2 MB
Many people assume that we can separate emotions from thoughts and decisions, but to do so, can only lead one to the wrong decisions, decisions these made under the effect of the subconscious mind, and therefore being unconscious decisions. Recent research in Psychiatry has been showing us how emotions and thoughts are deeply interrelated, and to a point in which they actually determine them. One's emotional wellbeing can and does, in fact, determines the ability to make good decisions in life. And so, we can actually say that emotional intelligence can directly affect cognitive intelligence. One can't simply analyze life or anything it might include while ignoring the emotions behind the beliefs, delusions, fears and ambitions.
Within this path, and inspired on conversations with several people looking for answers that hide inside them, this book was written with the purpose of enlightening readers to a path that will grant more purpose and success in life, either it is related to a job or to relationships.
The love of a companion can inspire one to higher ambitions, the compliment of a boss can motivate an employee to arrive earlier and do more, the appreciation of a reader, when letting the author know how much he impacted in a positive way, can grant him more beingness and speed when waking up early in the morning to, in solitude, write to thousands of human beings that he might never meet in person. Love feeds the world and makes it move in harmony in a multitude of forms and ways. But nothing in the field of psychiatry or psychology can go as deep as the spiritual meaning that understanding love can have in our life. And it is precisely taking into account the wisdom of the ancients on this topic that this book presents a more organic view on the meaning of loving and truly experiencing a life abundant in positive emotions.