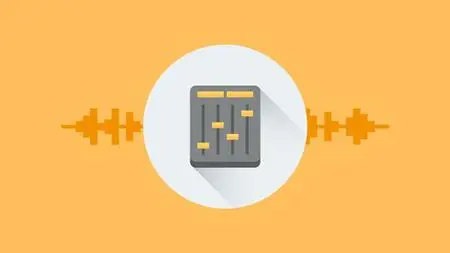 Avid Pro Tools 12 Fundamentals
Last updated 1/2017
MP4 | Video: h264, 1280x720 | Audio: AAC, 44.1 KHz
Language: English | Size: 1.36 GB | Duration: 6h 30m
Record, Edit and Mix Dialogue; Music and Sound Effects
What you'll learn
Once you have completed this training course, you will be fully capable of using Pro Tools 12 to compose, record, edit, and mix music and audio
Learn the tools and techniques needed to work within this digital audio workstation
Requirements
Working files are included, allowing you to follow along with the author throughout the lessons
No prior experience with Pro Tools is required
Description
In this Avid Pro Tools 12 Fundamentals training course, expert author Joe Godfrey teaches you the tools and techniques needed to work within this digital audio workstation. This course is designed for the absolute beginner, meaning no prior experience with Pro Tools is required. 
You will start by learning about basic editing in the timeline, then jump into learning how to customize Pro Tools. From there, Joe will teach you how to record and edit a voice track, edit music tracks, and use elastic audio. This video tutorial also covers MIDI in Pro Tools, tracking instruments, sound design, and working with video. Finally, you will learn about mixing and automation, including automating volume, printing effects and stems, and archiving your sessions. 
Once you have completed this computer based training course, you will be fully capable of using Pro Tools 12 to compose, record, edit, and mix music and audio. Working files are included, allowing you to follow along with the author throughout the lessons.
Overview
Section 1: Introduction To Pro Tools 12
Lecture 1 Important - Download These First - Working Files
Lecture 2 Who Uses Pro Tools?
Lecture 3 About The Author
Lecture 4 About The Course
Lecture 5 New In Pro Tools 12
Lecture 6 Installing And Authorizing Pro Tools
Lecture 7 Application Manager And Hardware Options
Lecture 8 Playback Engine Options
Lecture 9 Signal Flow In Pro Tools
Lecture 10 Digital Audio 101
Section 2: Basic Editing In The Timeline
Lecture 11 Creating A Session
Lecture 12 Importing Audio
Lecture 13 Tracks And Track Information
Lecture 14 Clips And Clip Edits
Lecture 15 Smart Tools And Edit Modes
Lecture 16 Counters, Grid And Nudge
Lecture 17 Trim, Clip Volume And Duplicate
Lecture 18 Consolidate And Export
Section 3: Customizing Pro Tools
Lecture 19 Customizing Pro Tools
Lecture 20 Options For Saving Sessions
Lecture 21 Pro Tools Preferences - Part 1
Lecture 22 Pro Tools Preferences - Part 2
Lecture 23 Window Layouts And Scroll Options
Lecture 24 Sorting In The Clip Bin
Lecture 25 Clearing And Deleting Files
Lecture 26 Showing And Hiding Tracks
Lecture 27 Track And Clip Colors
Lecture 28 Session Parameters
Lecture 29 New Workspace Browser
Section 4: Recording And Editing A Voice Track
Lecture 30 Setting Mic Input Levels
Lecture 31 Setting Up A Cue
Lecture 32 The 1-2-3 System
Lecture 33 The Separation Grabber
Lecture 34 Music In The Cue
Lecture 35 FX In The Cue
Lecture 36 Breathless
Lecture 37 The TCE Trimmer
Section 5: Editing Music Tracks
Lecture 38 Editing Library Music
Lecture 39 Using Identify Beat
Lecture 40 Slicing Music Using The Grid
Lecture 41 Splices And Crossfades
Lecture 42 Fade And Crossfade Options
Lecture 43 Changing Tempo Of Library Music Tracks
Lecture 44 Setting Triggers In Beat Detective
Lecture 45 Conforming Triggers In Beat Detective
Section 6: Elastic Audio
Lecture 46 Elastic Audio For A Voice Track
Lecture 47 Elastic Audio For Music
Lecture 48 Pitch Adjustments Using Elastic Audio
Section 7: MIDI In Pro Tools
Lecture 49 Connecting A MIDI Keyboard
Lecture 50 Editing MIDI Notes
Lecture 51 XPand!2 - Virtual Instrument Library
Lecture 52 Recording And Editing MIDI
Lecture 53 MIDI Merge And Wait For Note
Lecture 54 Play It Slow, Hear It Fast
Lecture 55 MIDI Step Load
Lecture 56 Performance Transpositions Using Xpand!2
Lecture 57 Virtual Instruments
Lecture 58 MIDI Import And Export
Section 8: Tracking Instruments
Lecture 59 Adding Rhythm Guitar
Lecture 60 Arranging Using The Timeline
Lecture 61 Guitar Amp Simulators
Lecture 62 Loop Record And Playlists
Lecture 63 Comping A Playlist
Lecture 64 Quick Punch
Lecture 65 Dynamic Transport
Lecture 66 Half Speed Recording
Section 9: Sound Design
Lecture 67 Sound Design
Lecture 68 Dialog Phone EFX
Lecture 69 Creating New SFX With Plug-Ins
Lecture 70 Using Plugins To Process SFX
Lecture 71 Timing Music To SFX
Lecture 72 Tuning SFX To Music
Lecture 73 Exploring The Structure Interface
Lecture 74 Putting Structure To Work
Section 10: Working With Video
Lecture 75 Importing The Movie
Lecture 76 Spotting The Movie
Lecture 77 Setting The Tempo Of The Music
Lecture 78 Using Spot Mode For Precise Placement
Lecture 79 Building An Alternative Version In The Timeline
Lecture 80 Bouncing The Movie
Section 11: Mixing And Automation
Lecture 81 The Philosophy Of Mixing
Lecture 82 EQ And Volume
Lecture 83 Busses, Sends, Auxes And Inserts
Lecture 84 Panning, Marker Locations And The Universe
Lecture 85 Automating Volume, Pan And Send Levels
Lecture 86 Automating Plugin Parameters
Lecture 87 Compression And Customing Templates
Lecture 88 Printing Effects And Stems
Lecture 89 Archiving Your Session
Section 12: Conclusion
Lecture 90 Wrap Up
This course is designed for the absolute beginner, meaning no prior experience with Pro Tools is required,Ideal for new Avid Pro Tools 12 users