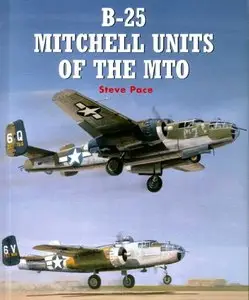 B-25 Mitchell Units of the MTO (Combat Aircraft 32) By Steve Pace
Publisher: Os Publishing 2002 | 96 Pages | ISBN: 1841762849 | PDF | 43 MB
During the course of World War II, throughout the Mediterranean Theatre of Operations (which encompassed some7500 square miles of enemy air space), five USAAF medium-class bomb groups and their 20 bomb squadrons used their allotments of B-25 Mitchell aircraft to perfection. From low-altitude strafing to high-altitude bombing runs, the B-25s in the MTO proved themselves to be a most successful brood of combat aircraft. This volume includes first-hand accounts. Steve Pace is the author of numerous volumes on American aircraft for Motorbooks International. His previous titles have covered such subjects as the B-25 and Lockheed Constellation. Tom Tullis is an America-based artist who has completed a number of volumes in both the Aces and Combat Aircraft series since 1996.
NO PASSWORD


!!!No Mirrors below, please! Follow Rules!