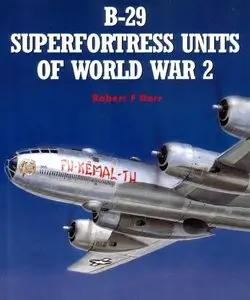 B-29 Superfortress Units of World War 2 (Combat Aircraft 33) By Robert F Dorr
Publisher: Os Publishing 2002 | 96 Pages | ISBN: 1841762857 | PDF | 42 MB
The ultimate piston-engined heavy bomber of World War 2, the first production B-29s were delivered to the 58th Very Heavy Bomb Wing in the autumn of 1943. By the spring of 1944 the Superfortress was bombing targets in the Pacific, and by war's end the aircraft had played as great a part as any weapon in ending the conflict with the Japanese. Indeed, the final dropping of two atomic bombs from the B-29 convinced the Japanese to sue for peace. This book traces the wartime career of the B-29, as the aircraft went from strength to strength in the Pacific Theatre. Robert F Dorr is a well respected author of long-standing reputation - he has written over a dozen books over the years. His histories on modern American combat aircraft like the F-101 Voodoo and A-6 Intruder have set the standard for works of this type. His ability to combine 'crew speak' with concise editorial comment gives his books a unique and revealing style of their own. Mark Styling has illustrated several books in both the Aces and Combat Aircraft series.
NO PASSWORD


!!!No Mirrors below, please! Follow Rules!