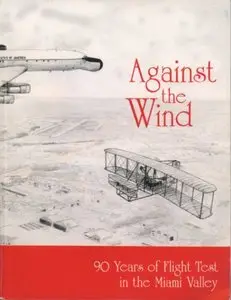 Against the wind: 90 years of flight test in the Miami Valley By U.S. Dept of Defense
Publisher: History Office, Aeonautical Systems Center 1994 | 228 Pages | ISBN: n/a | PDF | 16 MB
Against the Wind is about flight testing in the Miami Valley It is a story that begins with the Wright brothers on Huffman Prairie and concludes with the transfer of the 4950th Test Wing from Wright-Patterson Air Force Base to the Air Force Flight Test Center, Edwards Air Force Base, California. This book recounts one of the most interesting and important episodes in the history of American airpower, one in which Dayton and the Miami Valley have played a significant and proud role. Test flying began in Dayton, Ohio, in 1904, a year after the Wright brothers' first flight, when they moved their flying experiments from the sand dunes of Kitty Hawk to the grassy hummocks of Huffman Prairie, now part of Wright-Patterson Air Force Base The Wrights sold the Army its first aircraft in 1909 and in the years before World War I trained many a future Army aviator in their flying school on Huffman Prairie. The war cemented Dayton's relation with military aviation when McCook Field was established just north of downtown on the banks of the Great Miami River.
NO PASSWORD



!!!No Mirrors below, please! Follow Rules!