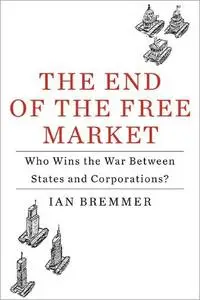 The End of the Free Market: Who Wins the War Between States and Corporations? [Audiobook] by Ian Bremmer
English | July 8, 2010 | ASIN: B003VXI8X4 | MP3@64 kbps | 7 hrs 10 mins | 197 MB
Narrator: Willis Sparks
Providing an understanding the rise of state capitalism and its threat to global free markets, The End of the Free Market details this growing phenomenon - a system in which governments drive local economies through ownership of market-dominant companies and large pools of excess capital, using them for political gain. This trend threatens America's competitive edge and the conduct of free markets everywhere.
An expert on the intersection of economics and politics, Ian Bremmer has followed the rise of state-owned firms in China, Russia, the Arab states of the Persian Gulf, Iran, Venezuela, and elsewhere. He demonstrates the growing challenge that state capitalism will pose for the entire global economy.