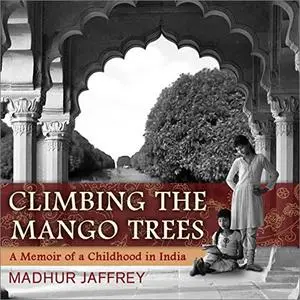 Climbing the Mango Trees: A Memoir of a Childhood in India [Audiobook] by Madhur Jaffrey
English | October 25, 2011 | ASIN: B005ZF94LQ | MP3@64 kbps | 7h 13m | 200 MB
Narrator: Sumeet Bharati
Madhur (meaning sweet as honey) Jaffrey grew up in a large family compound by the Yamuna River in Delhi, where her grandfather often presided over dinners with 40 or more members of his extended family savoring together the wonderfully flavorful dishes that were forever imprinted on Madhur's palate. Whether climbing the mango trees in her grandparents' orchard, armed with a mixture of salt, pepper, ground red chilies, and roasted cumin, or picnicking in the Himalayan foothills on meatballs stuffed with raisins and mint, tucked into freshly baked spiced pooris, the tastes and textures of those childhood pleasures bring back memories of growing up.
Independent-minded, sensitive, and ever curious, Madhur as a child explored the history of her family and was deeply affected by their personal trials. Despite obstacles that her schooling imposed and an insecure adolescence, she emerged well educated and gifted in the arts, ready to explore new territory as the world she had known crumbled around her. Climbing the Mango Trees is both an enormously appealing account of an unusual childhood and a testament to the power of food in our lives to evoke memory. Although by the time it ends, when Madhur leaves India, she had never cooked a meal, it was that longing to taste again the flavors of her childhood that drove her into the kitchen - to become eventually the internationally acclaimed food writer that she is today.