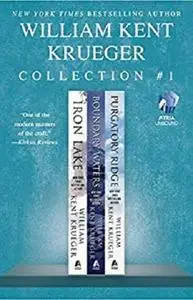 The William Kent Krueger Collection #1: Iron Lake, Boundary Waters, and Purgatory Ridge (Cork O'Connor Mystery Series) by William Kent Krueger
English | July 17, 2012 | ASIN: B0078XG0LA | 1045 pages | AZW3 | 2.58 MB
Three exciting Cork O'Connor mysteries in one package and only available as an eBook. Includes an exclusive Introduction by William Kent Krueger that describes his experience writing these first three novels in his New York Times bestselling series.
Iron Lake
:
Part Irish, part Anishinaabe Indian, Corcoran "Cork" O'Connor is the former sheriff of Aurora, Minnesota. Embittered by his "former" status and the marital meltdown that has separated him from his children, Cork gets by on heavy doses of caffeine, nicotine, and guilt. Once a cop on Chicago's South Side, there's not much that can shock him. But when the town's judge is brutally murdered, and a young Eagle Scout is reported missing, Cork takes on a mind-jolting case of conspiracy, corruption, and scandal.
"Iron Lake is an explosive brew: one part James Ellroy, one part Stephen King, one part Jack London, and all parts terrific. A harrowing, unpredictable journey into the heart of the forest primeval where evil not only waits for you, but calls your name. A truly remarkable first novel; read it with someone watching your back." —David Housewright, Edgar Award-winning author of Curse of the Jade Lily
Boundary Waters
:
Somewhere in the heart of the unforgiving Quetico-Superior Wilderness, near the U.S./Canada border, a young woman named Shiloh
—
a country-western singer at the height of her fame
—
has disappeared. Cork O'Connor joins a search party that includes an ex-con, two FBI agents, and a ten-year-old boy. Others are on Shiloh's trail as well
—
men hired not just to find her, but to kill her. As the expedition ventures deeper into the wilderness, strangers descend on Aurora, threatening to spill blood on the town's snowy streets. Meanwhile, out on the Boundary Waters, winter falls hard. Cork's team of searchers loses contact with civilization, and like the brutal winds of a Minnesota blizzard, death
—
violent and sudden
—
stalks their every move.
"Krueger's writing, strong and bold yet with the mature mark of restraint, pulls this exciting search-and-rescue mission through with a hard yank." —Publishers Weekly
Purgatory Ridge
:
Not far from Aurora, Minnesota (population 3,752), lies an ancient expanse of great white pines, sacred to the Anishinaabe tribe. When an explosion kills the night watchman at wealthy industrialist Karl Lindstrom's nearby lumber mill, it's obvious where suspicion will fall. Former sheriff Cork O'Connor agrees to help investigate, but he has mixed feelings about the case. For one thing, he is part Anishinaabe. For another, his wife, a lawyer, represents the tribe. Meanwhile, near Lindstrom's lakeside home, a reclusive shipwreck survivor and his sidekick are harboring their own resentment of the industrialist. And it soon becomes clear to Cork that harmony, both at home and in Aurora, will be on the back burner for some time.
"A terrific read. In Purgatory Ridge, William Kent Krueger not only tells a cracking good suspense story, but he tells it with deep insight. He understands the eternal battles that draw good people into bad deeds. He understands heartbreak and hope. He understands violence and gentleness. I highly recommend this novel." —T. Jefferson Parker, New York Times bestselling author of The Jaguar