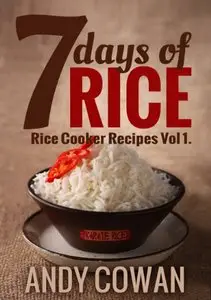 Andy Cowan, "7 Days of Rice - Rice Cooker Recipes"
2013 | ASIN: B00C0UB3K4 | 30 pages | EPUB, MOBI, PDF | 4 MB
7 Days of Rice - Rice Cooker Recipes was written by Andy Cowan, a Scotsman who has spent over 10 years living in Japan. He has learned from the experts on how to cook great tasting rice and married that with his own love of healthful, whole food, plant based eating.
If you own a rice cooker, this book is for you!
The seven recipes contained within this book are ones that you will want to eat again and again. As the book is so short, there is no space for "filler" type recipes. These seven recipes are ones that I make myself at least once a week.
Contained Within
How to Choose a Rice Cooker - a discussion of the various types of electronic rice cookers available today. Find out my favorite style for rice cooker cooking.
How to Wash Rice - Learn the two different ways I use to wash rice before cooking.
7 Great Tasting Rice Cooker Recipes - From sweet to savory, breakfast or dinner, main or side, there's a recipe for any occasion.