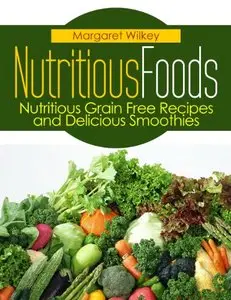 Nutritious Foods: Nutritious Grain Free Recipes and Delicious Smoothies by Margaret Wilkey
English | 2013 | ASIN: B00CCQ7AXA | 136 pages | EPUB | 0,3 MB
Nutritious Foods is a cookbook that represents two distinctive and healthy diet plans, the grain free diet, and the smoothie diet. Each of these diet plans serves to offer recipes featuring the most nutritious foods in the ingredients.
By consuming healthy foods, we give our body a chance to build a strong healthy immune system. By following through the meal planning with healthy menus, we can keep our body on the right track with proper nutrition. In learning how to eat healthy meals, we discover how nutritious food is the key to keeping us strong and healthy.
In this book, we learn that the key to success with any diet is in finding the right health foods to eat. This includes recipes that promote eating healthy. For example, some of the recipes for nutritious breakfast foods include: Grain-Free Breakfast Bars, Carrot Muffins, Gluten-Free Breakfast Biscuits, Nutty Granola, Almond Raisin Muffins, Breakfast Cereal Sans Gluten, Gluten Free Waffles, Buckwheat Pancakes in the grain free recipes. The Smoothie diet recipes offer many that are perfect for breakfast and lunch and supper as well as snacks.
Other recipes included in this book are Peanut Banana Berry Smoothie, Spicy Banana Smoothie, Mango Papaya Smoothie, Fruit Spread Smoothie, Creamy Strawberry Smoothie, Banana Berry Vanilla Smoothie, Peachy Banana Berry Vanilla Smoothie, Mango Banana Smoothie, Purple Smoothie, and Strawberry Pear Smoothie from the Smoothie Diet section. From the Grain Free Diet section, there are Shrimp Cakes, Garden-Style Hot Dogs, Grain Free Mac and Cheese, Grain Free Pizza, Asian Sesame Noodles, Grain Free Cornbread, Gluten and Sugar Free Gingerbread Cake, Grain Free Breaded chicken, Stuffed Bell Peppers, Almond and Grilled Chicken Salad, Rice Stuffing, and much more.