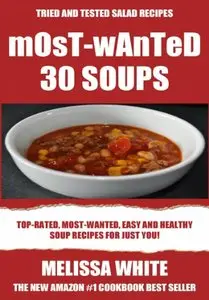 Most-Wanted 30 Soup Recipes: Most-Wanted, Easy And Healthy Soups For Just You! by Melissa White
English | 2013 | ASIN: B00CICPIPK | 30 pages | EPUB | 0,6 MB
If you are looking for some amazingly delicious and simple soup recipes, you've found the right and perfect book.
Introducing an Excellent collection of Top 30 MOST-WANTED AND EASY AND HEALTHY Soup Recipes and utterly delicious at the same time.
INSIDE THIS COOKBOOK YOU WILL FIND:
1. Most-Wanted And Easy Soup Recipes for you and your family.
2. Easy navigation through the recipes and the whole book.
3. Step-by-step description of each preparation method that makes the process of cooking much easier and quicker.
4. Beautiful and colored pictures of the recipes.
Below is the list of soup recipes covered in this cookbook:
**************
Chicken Noodle Soup
Asparagus Soup
Braised Italian Sausage Stew
Simple Roasted Butternut Squash Cinnamon Soup
Cheddar Potato Soup
Chicken Tortilla Soup
Shrimp & Coconut Soup
Really Easy Broccoli Soup
Sweet Potato and Lentil Soup
Crock Pot Beef Vegetable Soup
Canary Island Cilantro Soup
Two Old Queens Soup
Cheeseburger Soup
Taco Soup
Easy Black Bean Soup
Low Fat Chip Dip (Lipton Onion Soup Dip)
Best-ever Beef Barley Soup
Slow Cooker Split Pea and Ham Soup
Mexican Chicken Chili Soup
Easy Chicken Noodle Soup
Meatball Soup
and more…