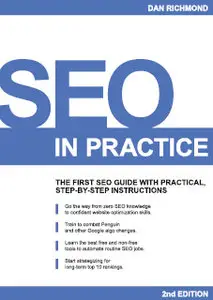 SEO in Practice, 2nd Edition by Dan Richmond
English | 2013 | ISBN: n/a | ASIN: B00D62VFT4 | 242 pages | EPUB | 9,8 MB
SEO in Practice is the first SEO guide with practical, step-by-step instructions.
And with its help you will:
• Go the way from zero SEO knowledge to confident website optimization skills.
• Train to combat Penguin and other Google algo changes.
• Learn the best free and non-free tools to automate routine SEO jobs.
• Start strategizing for long-term top 10 rankings.
• and much more!
This guide is aimed at showing you the ins and outs of today's Search Engine Optimization, and its underlying principle is: the main thing of SEO is practice.
Yeah, learning SEO makes you smart — but doing SEO drives your site up.
With this guide, you'll be learning and doing SEO from the very first minute, and see how exactly you'll take your site to the top of search engines, where the sweetest spot is.
The guide's core features are:
• simplicity,
• illustrative examples,
• ease of rendering
And believe me, what you'll see is amazing! As soon as you get down to reading, you'll find out how just a few tweaks to your site skyrocket your bottom line — and how you can ensure long-lasting success.
So the #1 goal of this whole book is not simply to teach. It's to show you the exact steps that alone will let you jumpstart your website sales — and do that easy, free and fast.
Sure, to get going with your own SEO campaign, you don't have to wait till you read the whole book. The sooner you start, the earlier you get the results.
So grab the first chapters — and get down to optimizing your website right now!
Now, is your site ready for the huge popularity that's coming?
My nickname -
interes