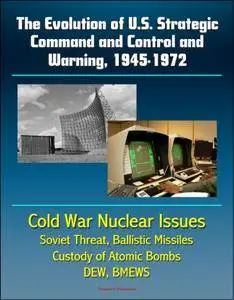 The Evolution of U.S. Strategic Command and Control and Warning, 1945-1972 - Cold War Nuclear Issues, Soviet Threat, Ballistic Missiles, Custody of Atomic Bombs, Command Posts, DEW, BMEWS by U.S. Government
English | 29 Jun. 2013 | ASIN: B00DPYBNOK | 265 Pages | AZW3 | 710.44 KB
This report is a fascinating, candid, and comprehensive review of the controversies and complex issues facing U.S. military and civilian leaders in the Cold War era, from decisions about the custody and control of atomic bombs to the arcane world of MAD, DEFCON, BMEWS, and strategic command and control systems.
The executive summary states: This study is a history of the evolution of US strategic command and control and warning from 1945 to mid-1972. The 27 years under review span the development of US nuclear capability from a small number of atomic bombs and specially modified aircraft to deliver them to the large, complex forces and means to control them that exist currently. Command and control of and warning for US strategic forces have involved the capability to accomplish several basic functions: (1) maintain an up-to-date accounting of the status of forces and nuclear weapons; (2) on the defensive side, secure as early warning as possible of an enemy attack, assess it, and pass that warning to the National Command Authorities and to the strategic forces; (3) communicate the orders to launch strategic forces and maintain contact with them after launch; (4) ascertain the effectiveness of strike forces and the restrike capability of those forces; and (5) maintain the capability to carry out these functions during and after a nuclear attack on the United States. These functions were to become more difficult to perform with the passing years, both as US strategic forces became larger, more diverse, and more sophisticated and as the Soviet nuclear offensive capability grew, US strategic forces moved from sole reliance on piston-engine B-29s to jet aircraft, both land based and carrier based, and then to a combination of jet bombers and land-based missiles. Finally, missile-launching submarines completed the strategic triad. The burdens of command and control in coordinating these elements grew accordingly.
1945-1953 * IMPACT OF ATOMIC ENERGY AND THE CONCEPTUAL FRAMEWORK FOR MILITARY EMPLOYMENT * Conceptual Developments: Atomic Blitz * Early Atomic War Plans * CUSTODY OF ATOMIC BOMBS AND AUTHORITY * CONTROL OF ATOMIC OPERATIONS * Organizational Developments. * Targeting Issue * Coordination of Atomic Operations * Impact of Weapons Development on Control Issue * INTERSERVICE CONTROVERSY OVER ATOMIC MATTERS * Origins of SAC * Equipping Atomic Strike Force * Development of SAC Comm * PERCEPTIONS OF SOVIET THREAT * DEVELOPMENT OF WARNING SYSTEMS, 1945-53 * Impact of Korea * Ground Observer Corps * DEW Line * Seaward Extension of Warning System * Organization for Air Defense and Warning * DEVELOPMENT OF COMMAND POSTS FOR STRATEGIC OPERATIONS CONTROL * Joint Command Post * Role of Air Force Command Post * PART TWO: 1954-1960 * STRATEGIC CONTEXT * The New Look * Dispute Over Strategic Doctrine * SAC Operational Constraints * SAC ORGANIZATION AND COMMUNICATIONS * Basic Organization * General Operational Situation in the 1954-60 Period * SAC Communications * SAC PRE-ATTACK AND POST-ATTACK COMMAND AND CONTROL * 465L Funding and Schedule Difficulties * Problem of SAC Command and Control Survivability * Post-Attack Command Control System (PACCS) * COORDINATION OF STRATEGIC OPERATIONS * WARNING OF STRATEGIC ATTACK * Warning Situation at Beginning of 1954-60 Period * DEW Line * Semi-Automatic Ground Environment (SAGE) * Warning of Missile Attack * NATIONAL COMMAND AND CONTROL VULNERABILITY * NEW ADMINISTRATION * STRATEGIC COMMAND AND CONTROL PROBLEMS IN 1961 * Partridge Report * OEP Study * COMMAND CENTER ISSUES * USAF, SAC, and NORAD NATIONAL COMMAND FACILITIES * CUBAN MISSILE CRISIS * DEW Line * BMEWS * SLBM Warning * Over-the-Horizon Radar * Defense Support Program * BALANCE OF STRATEGIC FORCES * Perceived Soviet Threat * US Strategic Force Posture * COMMAND AND CONTROL SYSTEMS, 1968-72 * National Military Command System * CINC Systems: SAC * SACEUR-CINCEUR Strategic Command and Control Arrangements