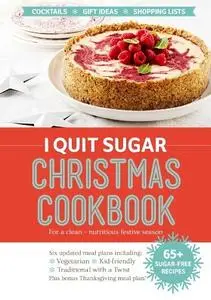 I Quit Sugar Christmas Cookbook by Sarah Wilson
English | 2013 | ISBN: n/a, ASIN: B00GW9GTQW | 82 pages | EPUB | 1,8 MB
I Quit Sugar maintains that a sugar-free Christmas can still be enjoyed with abundant, wholesome and delicious food! In the updated Christmas Cookbook you will find 65+ recipes including many alternatives to classic favourites and lots of guilt-free treats to excite your guests.
What's inside the Christmas Cookbook?
Six meal plans:
• Let's Do Brunch: a fresh morning buffet menu.
• The Summer Barbeque: a fun, outdoorsy menu geared to warmer climates.
• Traditional with a Twist: the roast 'n' pudding affair, but with much less fuss and much, much kinder on your waistline.
• A Very Veggie Christmas: a festive vegetarian meal plan to serve six.
• Kid-friendly Feeds: fun meals to keep the kids entertained and well-fed.
• The Thanksgiving Banquet: all the traditional favourites with an IQS spin.
Handy tips and tricks:
• Recipes dedicated to using leftovers and a how-to guide to on minimising food wastage.
• A guide to navigating the silly season during work functions and social gatherings.
Bonus features:
• Shopping list generator
• Ingredient converter
• Printable recipes
• Planning notes to manage preparation leading up to the big day
• Gift ideas to suit any occasion
• Links to video cooking demonstrations
What is I Quit Sugar?
I Quit Sugar is the product of a personal experiment by media personality and health advocate, Sarah Wilson. I Quit Sugar encourages people to lessen their sugar intake through avoiding foods high in fructose and sucrose over an 8-Week period. It is believed during this time our bodies can recalibrate and find a natural appetite without the harmful effects of the white stuff.
My nickname -
interes