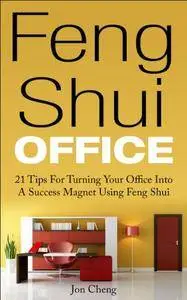 Jon Cheng, "Feng Shui Office: 21 Tips For Turning Your Office Into A Success Magnet Using Feng Shui"
2014 | ASIN: B00I1SCJ6G | 39 pages | AZW3 | 0,2 MB
Turn Your Office Into A Peaceful Retreat Designed To Attract Success & Wealth With These Feng Shui Office Tips!
Who wants to work in a bland office that does nothing to promote creativity and success? The good news is, you don't have to!
By applying these simple Feng Shui tips to your office space, you'll greatly improve your work space by increasing the flow of energy and promote a prosperous work environment.
How is this possible?
How to position your desk to achieve the best results
How staying organized can dramatically increase the flow of positive energy in your workplace
5 special plants you can add to instantly improve your work environment and air quality
Tip #10: Use the energy map to discover which of the 5 elements should be represented in each area of the office to ensure maximum energy flow
How to use that same energy map to determine the colors needed in each area of the office
Do you know what the focal point of your office is? If not, we'll tell you how to determine the focal point, and why it is so important
How to implement Feng Shui principles in complicated office spaces you might not have total control over - like cubicles!
And much more!
Download your copy of Feng Shui Office to start putting these Feng Shui Office tips to work for you.
Your office space doesn't have to be bland and boring. Start attracting success and increase your productivity and wealth with these Feng Shui principles.
I know many people are skeptical of Feng Shui, and I was one of them. But after experiencing the positive effects Feng Shui has made on my life, I fully believe in the power of Feng Shui, and hope you'll give it a chance to make a difference in your life as well.
Get started today!