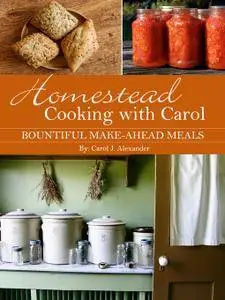 Homestead Cooking with Carol: Bountiful Make-ahead Meals by Carol J. Alexander
English | 2014 | ISBN: n/a | ASIN: B00ISCO87I | 81 pages | EPUB | 1 MB
Homestead Cooking with Carol: Bountiful Make-ahead Meals shows you, the busy homesteading homemaker, how to prepare your food at harvest time so you spend less time making supper the rest of the year. It shows you how to prepare simple, healthy foods that do not require a culinary degree for those nights when you lack the energy to chop, braise, caramelize, or glaze.
Nothing relieves stress in a woman's life like knowing what's for supper. Having meals put up, having a system to live by, and casting off the expectations that every meal needs to be a gourmet affair will bring you renewed energy of mind and spirit. In fact, quick stress-free home cooking makes the entire family happy.
In addition, how would you like to:
•have cookies warm from the oven every day when your kids step off the bus,
•take a new mom a meal without adding to your already heavy work load,
•say "No" to the local drive-thru after an exhausting shopping day because you know supper can be ready before the kids unload the car,
•save enough money to buy something special,
•or welcome unexpected company with a smile because simply adding one more jar to the pot makes supper with friends a possibility?
When you implement the techniques in Homestead Cooking with Carol you can do all this and more. As an added bonus, the book includes free menu-planning worksheets to print and use to simplify your journey to Bountiful Make-ahead Meals.