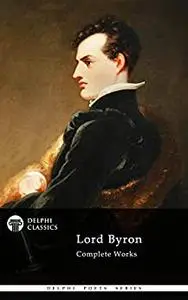 Lord George Gordon Byron, "Delphi Complete Works of Lord Byron (Illustrated)"
English | 2014 | ASIN: B00MQESR7Q | EPUB | pages: 4911 | 7.6 mb
"Mad, Bad and Dangerous to Know", Lord Byron was a leading figure of the Romantic movement, infamous for his flamboyant lifestyle, yet incredibly influential in the diverse range of his accomplished verse. The Delphi Poets Series offers readers the works of literature's finest poets, with superior formatting. This volume presents the complete works of Lord Byron, with beautiful illustrations and the usual Delphi bonus material.
* Beautifully illustrated with images relating to Byron's life and works
* Concise introductions to the poetry and other works
* Images of how the poetry books were first printed, giving your eReader a taste of the original texts
* Excellent formatting of the poems
* Special chronological and alphabetical contents tables for the poetry
* Easily locate the poems you want to read
* Rare minor poems section
* Byron's vampire short story, appearing for the first time in digital print
* Includes Byron's journals and letters - spend hours exploring the poet's personal correspondence
* Features the first ever biography on Lord Byron by John Galt - discover the poet's literary life
* Scholarly ordering of texts into chronological order and literary genres
Please visit
www.delphiclassics.com
to browse through our range of exciting titles
CONTENTS:
The Poetry Collections
HOURS OF IDLENESS
CHILDE HAROLD'S PILGRIMAGE
HEBREW MELODIES
STANZAS FOR MUSIC
OCCASIONAL PIECES, 1807-1824
DOMESTIC PIECES, 1816
SATIRES
TALES
DRAMAS
BEPPO
DON JUAN
MINOR POEMS
The Poems
LIST OF POEMS IN CHRONOLOGICAL ORDER
LIST OF POEMS IN ALPHABETICAL ORDER
The Short Story
FRAGMENT OF A NOVEL
The Letters
THE LETTERS AND JOURNALS OF LORD BYRON
The Biography
THE LIFE OF LORD BYRON by John Galt
Please visit
www.delphiclassics.com
to browse through our range of exciting titles