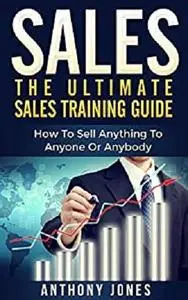 Sales: The Ultimate Sales Training Guide: How To Sell Anything To Anyone Or Anybody (Sales, sales training guide, sales training, sales training books, sales books, sales excellence, sales ebooks) by Anthony Jones
English | August 19, 2014 | ASIN: B00MW1BZ9K | 34 pages | AZW3 | 0.58 MB
<h2>Discover How To Sell Anything To Anyone And Become The Top Salesperson Of Your Team</h2>
You're about to discover how to become great at Sales. Sales isn't exactly the easiest of subjects to talk about because who likes to be sold, right? Well sales is more than just selling, it is building relationships with people and building trust.
I don't know if you'll become a top salesperson overnight, but I do believe that if you are looking to step up your sales game, than the Ultimate Sales Training Guide is the book for you.
<h2>Here Is A Preview Of What You'll Learn…</h2>
How To Know What You Are Selling
How To Know Your Buyer
Identify The Benefits Of What You're Selling
How To Develop A Great Presentation
How To Learn From Others
Common Mistakes To Avoid
Knowing Your Competitors
How To Perservere
And Much, Much More!
Download Your Copy Today!
Tags: Sales, sales training guide, sales training, sales training books,
sales books, sales excellence, sales ebooks