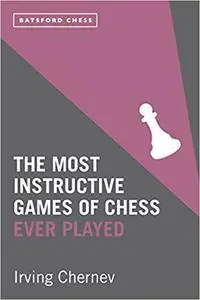 Irving Chernev, "The Most Instructive Games of Chess Ever Played: 62 masterly games of chess strategy"
English | 2014 | ASIN: B00QEGHAHU, B019L4XQ38 | EPUB | pages: 758 | 12.8 mb
One of the game's most admired and respected writers guides you through 62 masterly demonstrations of the basic strategies of winning at chess. Each game provides a classic example of a fundamental problem and its best resolution, described with chess diagrams and Chernev's lively and illuminating notes. The games – by chess greats such as Capablanca, Tarrasch, Fischer, Alekhine, Lasker and Petrosian – are instructive for chess players of all levels. The games turn theory into practice, showing the reader how to attack and manoeuvre to control the board. Chernev runs through the winning strategies, suggests alternative tactics and celebrates the finesse of winning play. This is not only a book of 62 instructive chess games, but also 62 beautiful games to cherish.