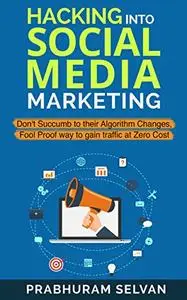 Hacking into Social Media Marketing: Don't succumb to their algorithm changes, Fool Proof way to gain traffic at Zero Cost by Prabhuram Selvan
English | April 30, 2015 | ASIN: B00WZ6Q60U | 73 Pages | EPUB | 2 MB
Marketing & Promotions in Social Media properties have become a nightmare with their constant algorithm updates which is makes it unpredictable to get traffic from them. Let the fundamental and sure way of using keywords to hack into social media properties to get maximum traffic without spending money on them. The rules of keywords apply to all social media and are independent of they algorithmic changes. This ensure the skill of keywords marketing once learned it can be always applied to social media properties to gain traffic at zero cost.
My nickname -
interes