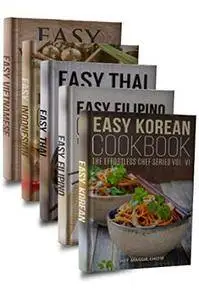 Chef Maggie Chow, "Easy Asian Cookbook Box Set"
2015 | EPUB | 302 pages | ASIN: B013WZSAVU | English | 0.7 MB
1 Cookbook. All of Asia! Delicious and Simple Recipes from: Vietnam, Korea, Thailand, Indonesia, and the Philippines. Discover the Uniqueness of the Asian Cuisines. Spicy and Sweet. Amazing Treats! The Best of Asian Cuisine Awaits.
Which form of Asian food is your favorite? Do you love spicy orange chicken from Thailand? Maybe you fancy the healthy soups of Korea. The cuisine of every Asian country is unique. Sample them all and determine your favorite!
The Easy Asian Cookbook Box Set is the first of its kind. In it's printed form this cookbook is massive and over 300 pages! You will learn over 100 of the best Asian recipes. If you love Asian food then this is the ONLY cookbook you need. You will learn that Indonesian, Thai, and Vietnamese food is spicy. Korean dishes are amazingly healthy and simple, and Filipino dishes share similarities with American but with interesting uniqueness.
Take a trip with Maggie Chow throughout the Asian world and you will not regret it! The Asian adventure starts in Korea and ends in Vietnam with some spicy, but delicious sandwiches.
This cookbook box set contains five amazing cookbooks:
Easy Korean Cookbook
Easy Thai Cookbook
Easy Vietnamese Cookbook
Easy Filipino Cookbook
Easy Indonesian Cookbook
Here is a Preview of the Recipes You Will Learn:
Avocado Milkshakes in the Philippines
Multiple Buko Recipes (Coconut Dessert)
Singkamas (Jicama Salad)
Hamburger Soup
Indonesian Satay
Indonesian Banana Fritters
Chicken with Peanut Sauce
Indo-Chinese Chicken Kebabs
Fried Rice with Shrimp and Spicy Sauce
Mango Bread
Spicy Tofu Salad
Korean Cucumber Salad
Glass Noodles
Seaweed Soup
Bean Tofu Soup
Pad Thai Noodles
Thai Curry Chicken
Orange Chicken
Peanut Sauce
Vietnamese Meatballs
Delicious Spring Rolls
Vietnamese Style Chicken Wings
Pho (Vietnamese Soup)
Much, much more!